Buffett Beyond Value
, by Prem Jain.
Although Buffett is known as a "value" investor, those who study his investment selections know that price is only part of the story. This book takes a detailed look at Buffett's focus on growing businesses with talented, passionate managers. Jain examines Berkshire's annual reports, interviews with Buffett and other writings to demonstrate the importance of acquiring well-run, growing franchises on Berkshire's success. Key to growing the value of those franchises, of course, are the management teams that created them in the first place. Additionally, Jain describes Buffett's approach to portfolio management including selling strategies and cash management. Although it's safe to say a mountain of texts has been written on and about Buffett and Berkshire Hathaway, Jain's effort is a useful addition.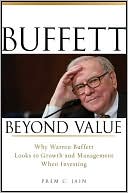 ISBN:
Format: Hardback, 304pp
Pub. Date: March 2010
Publisher: John Wiley & Sons
"This is required reading for all Buffettologists looking for more than just sound bites and folk wisdom in their quest to peer into the mind of one of the greatest investors of all time."
Andrew W. Lo