The Fearful Rise of Markets
, by John Authers.
This is a book with wide appeal. In 27 brief and concise chapters, Authers describes how a wide range of financial evolutions have taken place over time and how they have likely made global financial markets more fragile today. From indexing, money market funds, emerging market assets, bank deregulation, hedge funds and more, the book makes the case for multiple root causes of modern financial crises. This is a unique take on the subject of financial crises, since most explanations tend to oversimplify and focus more on a single "triggering event" rather than on the implications of the structure of today's global financial marketplace. As a result, readers are left with a much clearer understanding of the risks embedded in today's tightly coupled, highly complex investment world. Despite its detail and broad range of topics, the book remains highly readable. Part history lesson, part cautionary tale, Authers' book is not to be missed.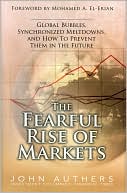 ISBN:
Format: Hardcover, 231pp
Pub. Date: April 2010
Publisher: FT Press
"This enjoyable, fast-moving book is concise, relevant, and perceptive. This book...should be read by all those interested in the way markets operate..."
Mohamed A. El-Erian, CEO and Co-CIO of PIMCO